Musings from Shima's Studio Journal – Plan and Prepare
I continue to explore my new collection Hikaru on a 24″ x 24″ birch panel. Hikaru is the Japanese word for Light and Radiance. The stillness of silence found in the absence of color inspires this work; it radiates a feeling of Oneness and Peace. The zen simplicity of using only tone-on-tone hues of white does not come easy.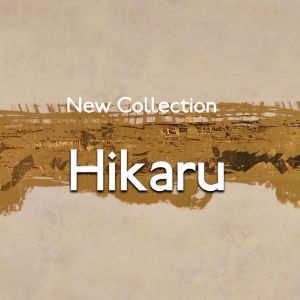 In my paintings, I use only the highest quality materials and spare no expense in sourcing the best. It creates a precious feeling for me, and I find I am more careful and respectful. One never knows when a masterpiece transpires. I am prepared.
The value of the materials makes my work feel worthy.
My deep cradle birch panels come from Montreal. They are the highest quality FAS hardwood, meaning they promise an unblemished and level surface that will not warp in the future, which would cause the wax to crack or slip.
As I unwrap each birch board, the scent of raw wood takes me back
to working alongside Grandpa Ben in his carpentry workshop.
I prepare each birch panel in a 3-step process. First, I mask the edges with tape to keep the sides and back clean. Later, I will stain and hand polish the sides so the finished original is ready to hang unframed if the collector prefers.
Next, I paint the birch panel with R&F Encaustic Gesso. There are inexpensive alternatives; however, R&F is made specifically for encaustic paintings. This added care is optional, but I find it essential for my work. The gesso layer creates a barrier so oil from the wood does not leach into the painting causing discoloration and bubbles. I've yet to fully master avoiding bubbles, but this eliminates a substantial amount. It is the Holy Grail.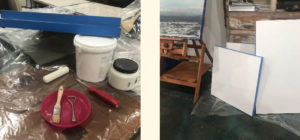 Once the gesso has dried, I sand the surface to a smooth finish with fine grit sandpaper, then remove all the dust particles with tack cloth. The surface is now ready for the first layer of clear encaustic medium.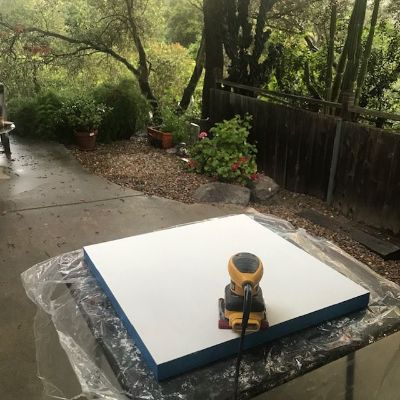 Tomorrow I will finish the last step of preparing the panel – layering and fusing clear medium.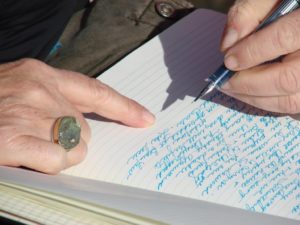 Peace All Ways,
Shima