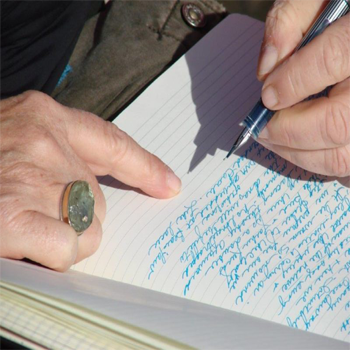 I have a special niche working with designers; one that requires corporate business experience in marketing and product development; the ability to see through another's eye to realize the designer vision, and the practiced skill to customize and scale original artwork. Oh! And being an Artist!
We begin with a conversation and continue our dialogue until the painting is finished, packed, shipped, and installed. Together, we discuss every detail of your project: the concept and composition, the size and dimensions, the textural elements and color palette; and the essential timeline and logistics.
The unique encaustic method of layering 50+ layers of pigmented wax, fusing with fire, adding wax, scraping back, then layering again allows me to refine and adapt your ideas and suggestions into the process. With snapshots and video, I invite you into my studio to share your painting's progress that typically takes 4 weeks for completion. I request a 50% deposit to begin work on a commissioned painting and final payment is due upon delivery. (Shipping rates are separate.)
My promise to you — that your client loves their painting — the abstract impression of your vision and their story through the Artist's hand.
I love working with Designers! Let's get started!